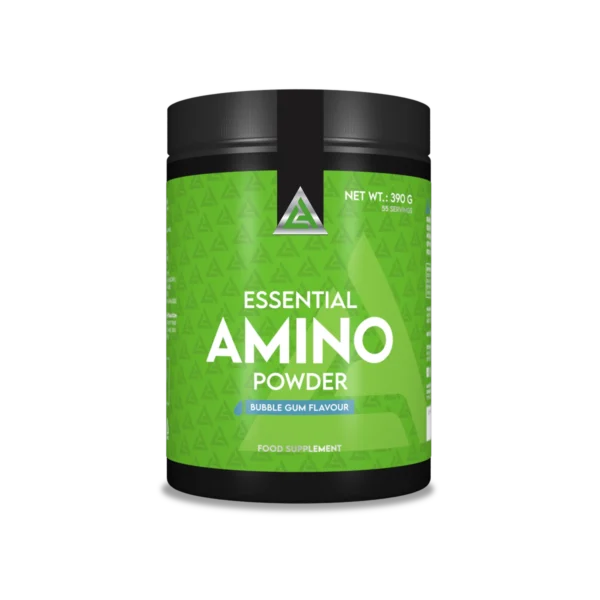 ESSENTIAL TO YOUR BODY, ESSENTIAL TO YOUR PROGRESS
Maximize muscle building with a complex essential amino acid formula from Lazar Angelov Nutrition. Everyone now knows that it is extremely important to get the right amount and quality of protein for muscle building, but there is much less talk about the important role that amino acids play in this process. This EAA complex drink powder provides you with all 9 essential amino acids for professional-grade development. Don't let your nutrient intake hinder you from achieving your goals - this product is essential for you!
9 COMPONENTS TO FINALLY LEVEL UP
There are nearly 300 amino acids present in nature, but we humans need 20 of them. Of these 20, 9 amino acids can only be ingested from our diet, making them essential for the healthy functioning of our bodies. Yes, they are essential for us but even with the best diets for athletes, it is questionable whether the body is given the amount it needs under intense exercise. And it is especially important for athletes and bodybuilders to consume extra amounts of EAA in order for muscle development to be effective. Essential amino acids all play an important physiological function in our body and support your work, raising your endurance to a higher level.
YOUR 9 HELPERS - ALL INCLUDED IN THIS PRODUCT:
#1 Leucine (BCAA): Leucine promotes muscle strength and growth and helps maintain lean muscle. #2 Isoleucine (BCAA): Plays an important role in muscle development and regeneration. #3 Valine (BCAA): Helps in the process of energy supply, regulates blood sugar levels. #4 Lysine: It plays an important role in the synthesis of proteins and the formation of collagen. #5 Phenylalanine: It is converted to another amino acid, tyrosine, which is needed for various brain compounds such as adrenaline. #6 Threonine: Supports the health of the immune system, liver, heart and central nervous system. #7 Methionine: Reduces the risk of various joint problems and inflammations. #8 Histidine: It helps in detoxification and the production of red and white blood cells, which are necessary for healthy health and immunity. #9 Tyrptophan: It plays a role in the production of serotonin, thus contributing to mental health.
EXTRA POWER PRE-WORKOUT BOOSTER WITH LONG-TERM PERSISTENCE
Start your activity with this professional booster! Before my workout, I always take REVOLT to spin up my body performance to the maximum. This pre-workout formula gives me extra power, concentration and unique focus during my training. REVOLT is aspartame free and completed with extra vitamin D3 in 4 different flavours. Choose your taste and make yourself unstoppable at the gym!
TRAIN LIKE A PRO!
Revolt booster is a scientifically dosed, maximum strength pre-workout supplement delivering everything you need for next-level workouts and next-level results. Feel a surge of energy, strength in your gains, enhanced focus, endless endurance, and powerful pumps. In addition to being a powerful pre-workout, it also promotes fat-burning and muscle-building. It includes massive doses of blood flow and muscle pump promoting ingredients such as L-Citrulline. You find Beta-Alanine, A-AKG and Tirozin in the ingredients list, they give you pins and needles, and a superhero feeling. Just because you care about your body and work out, it does not mean you should neglect your mind. One of the things that separate this pre-workout from others is the inclusion of nootropic ingredients such as L-Tyrosine.
PREMIUM WHEY PROTEIN POWDER DRINK MIX CONCENTRATE WITH EFFECTIVE IMPACTS.
Absolute impact for perfect results! Fill up your body with my WHEY protein Powder Drink Mix and enjoy the maximum power of my Whey Protein. In this high-class formula you will find 23g of lean protein per portion enabling you to maintain and grow muscle mass fast. I take it after every workout to keep my muscles in the perfect condition and help their recovery. Pick your favourite taste and follow your dream to the perfect body as I did.
GROW LIKE A PRO!
If you want to build muscle, boost your performance, and make the most out of all your hard work in the gym, or simply looking to increase your protein intake, Whey Protein Concentrate is the way to go. Make the most of your workouts with it. Each serving is packed with 23 grams of high-quality, fast-digesting and absorbing whey protein to support even the most rigorous athletic and fitness goals. It contributes to the growth and maintenance of healthy bones as well. Whey Protein Concentrate is made of milk, that means it's a complete protein, it provides all the necessary amino acids your body can't synthesize and must be supplied by diet. Choose your favourite flavour and grow like a pro.